Telehealth Foundations Online Course
Telehealth Foundations: Applications Across Professions - Self-Paced Online Course
---
"My patients will benefit from my enhanced knowledge of Telepractice, especially now that COVID-19 has helped usher us into this modality. Once the crisis abates, I believe Telehealth is here to stay, and as such, it is my responsibility to be an effective Telehealth practitioner so that I can offer this to my patients."
- Recent Student
---
Are you planning to engage in telehealth as an individual or as a member of an integrated healthcare team?
Are you exploring or designing a telehealth program to meet the needs of your patient/client population?
Are you looking for an efficient, cost-effective way to increase your team's overall knowledge about telehealth?
---
If you answered "yes" to any of these questions, the Telehealth Foundations online course will provide you with a foundational understanding of telehealth as an innovative healthcare tool. By completing this self-paced learning experience, you will learn about important historical milestones in telehealth delivery, ethical and legal considerations, relevant reimbursement regulations, and examples for best practices in the evolving landscape of telehealth. Modules highlight key components of four chief telehealth modalities: Live Video, Store and Forward (asynchronous), Remote Patient Monitoring, and mobile health (mHealth).
Telehealth Foundations is intentionally designed for interprofessional providers demonstrating a wide breadth of expertise and examples from dentistry, medicine, nursing, occupational therapy, pharmacy, physical therapy, social work, and speech-language pathology. This course features thorough and informative video presentations from interprofessional industry experts, real-life use cases, knowledge assessments, and a curated resource library of podcasts, articles, web resources, and literature offering a deep dive into telehealth.
---
At the conclusion of this course, you will be able to:
Outline important historical achievements in telehealth development.

Describe the current applications of telehealth modalities: Live Video, Store and Forward (asynchronous), Remote Patient Monitoring and mobile health (mHealth).

Apply ethical principles in the use of telehealth modalities.

Describe reimbursement regulations pertaining to various telehealth modalities.

Identify how to use telehealth in one's own practice setting or industry. 

Apply appropriate regulatory and reimbursement principles to one's current or envisioned program.
---
Learners will hear from an interprofessional group of contributors from Massachusetts General Hospital, MGH Institute of Health Professions, Veterans Administration (VA) Healthcare Boston, Spaulding Rehabilitation Network, Brigham and Women's Hospital, Joslin Diabetes Center, ATSU Arizona School of Dentistry and Oral Health, University of Southern California, University of Missouri Center for Health Ethics, and more.
---
In support of improving patient care, MGH Institute of Health Professions is jointly accredited by the Accreditation Council for Continuing Medical Education (ACCME), the Accreditation Council for Pharmacy Education (ACPE), and the American Nurses Credentialing Center (ANCC) to provide continuing education for the healthcare team.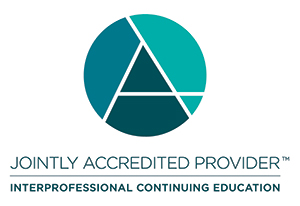 ---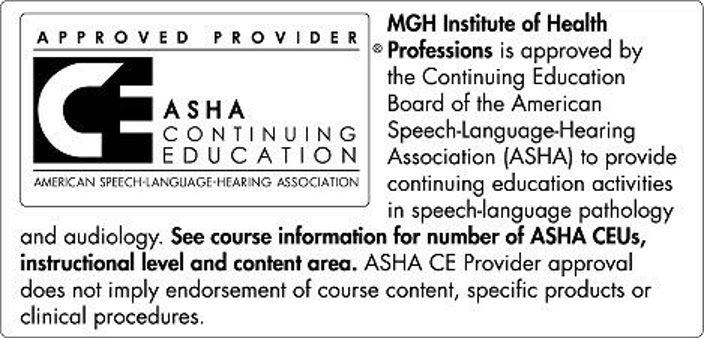 ASHA CEUs will start being offered to participants registered on or after May 1, 2021.
This course is being offered for .85 ASHA CEUs (Intermediate Level, Related Area).

This course is not being offered for partial credit. To receive credit for this course, participants must:
• Complete the course within six months of initiation
• Complete all video presentations and assessments
• Submit ASHA Participant information upon completion of the course
---
Telehealth Foundations Course Directors:
Emily Hayden, MD, MHPE
Director of Telehealth, Department of Emergency Medicine
Massachusetts General Hospital
Christie J. Lucente, MS, PA-C
Chief Physician Assistant, Department of Emergency Medicine
Brigham and Women's Hospital